UTP of coax kabel trekken
Een optimaal netwerk functioneert het beste wanneer deze bedraad is aangesloten.
Door alles bedraad aan te sluiten ondervind je geen storing op je draadloze signaal van bijvoorbeeld je buren.
De monteurs van Services2all helpen u dan ook graag bij het aanleggen van een bedraad netwerk.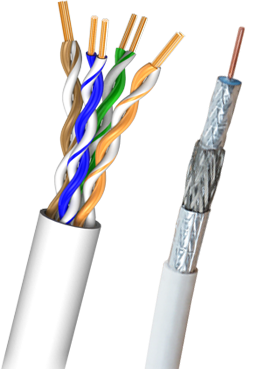 Heeft u reeds loze leidingen door uw huis liggen? Dan kunnen wij gemakkelijk een kabel naar een andere kamer of verdieping trekken.
Heeft u nog geen loze leiding? Dan kunnen wij door middel van kabelgoten alsnog een wandcontactdoos bij u aanleggen.
Wij kunnen u helpen bij het trekken van UTP kabels (cat5e) voor internet of netwerk.
Tevens helpen wij u graag bij het trekken van een COAX kabel ten behoeven van uw televisie.
Afspraak maken voor een offerte

Wilt u direct een afspraak maken met de expert van Services2all voor uw UTP of coax kabel trekken.
Bel dan naar 06-29349424. Ook kunt u een afspraak aanvragen door ons online formulier in te vullen.
Meer weten? Of nader kennismaken?
Mail of bel ons dan voor een afspraak.